Hope, Health, and Happiness. Would you like to live your life with less stress and more happiness? Discover how to take small steps towards a healthier, happier, more resilient you. Stress is a powerful force in life. It can bring about illness, destroy relationships and cause chaos. There is not a one-size-fits-all coping strategy for dealing with stress. Our goal is to put a plan together that helps us to deal with the sources of stress, take care of ourselves during those stressful times, and allows us to reach out to those around us for support. The Work Smart Live Smart flash briefing focuses on helping you to Harness Your Energy, Build Your Resiliency and Protect Your Mental Health!
Episodes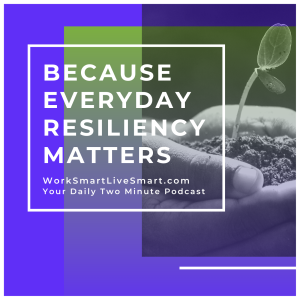 Saturday Mar 25, 2023
Saturday Mar 25, 2023
Marilyn Monroe said, "I never said I was a good girl."
If you want to be a bad, then you've got to embrace the look and the attitude.
Being bad is an art.
One site I looked at, said that bad girls rock the sexy shoe. Apparently flip flops don't cut it.
And sunglasses create an aura of mystery. Not sure my prescription progressive sunglasses count.
I also learned that my flannel pjs just don't cut it. Better to go black leather. Can't see it. I am not into bows and ruffles, but I do like my jammies.
I am not really hitting it out of the ballpark on this Be Bad Day.
Take One Action Today To Build Your #Resiliency!     
Tips For Building Resiliency and Celebrating Be Bad Day that may help you step into your Bad self:
Being Bad is about being confident. Confident to express yourself in any way, shape or form that you see appropriate. You are not afraid to try something new, even if it isn't for everyone.
Being confident is about being able to say what you want and go after what you need. It is not about stepping on others to get there, but it is showing the persistence to make it happen.
Being confident attracts people to you. You aren't afraid to talk to others. Being bad means that you can rely on your friends and step into your independence when you need to. You have your own interests and know how to take care of yourself.
Being bad, means that you are a survivor.
So, I might have a little bad in me…after all Joan Jett was one of my rocker heros.
Looking for more ways to build your resiliency? Take my free on-line vulnerability test at worksmartlivesmart.com under the resources and courses tab.
#mentalhealth #hr