Hope, Health, and Happiness. Would you like to live your life with less stress and more happiness? Discover how to take small steps towards a healthier, happier, more resilient you. Stress is a powerful force in life. It can bring about illness, destroy relationships and cause chaos. There is not a one-size-fits-all coping strategy for dealing with stress. Our goal is to put a plan together that helps us to deal with the sources of stress, take care of ourselves during those stressful times, and allows us to reach out to those around us for support. The Work Smart Live Smart flash briefing focuses on helping you to Harness Your Energy, Build Your Resiliency and Protect Your Mental Health!
Episodes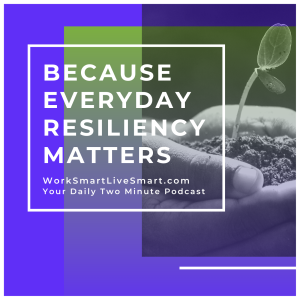 Thursday Mar 23, 2023
Thursday Mar 23, 2023
But the little boy said…There are so many colors in the rainbow. So many colors in the morning sun. So many colors in the flowers and I see every one.
I love this song by Harry Chapin. 
March is Colour Therapy Month and it reminds me that soon, the snow will leave us and the amazing colours of spring will surface.  These colours make me smile, they pick me up and they put the world back into perspective.
Research has found that colour does impact our mood.  Colour therapy itself, is an energy healing method that has been used for thousands of years.
Take One Action Today To Build Your #Resiliency!     
Tips For Building Resiliency and Celebrating Colour Therapy Month:
Deep breathing and visualization are powerful strategies that can calm and heal us.  You may want to vary this by using Colour Breathing.  While breathing in and out, the participant visualizes the various colours of the rainbow filling their body and then being released.  Red, orange and yellow come up from the ground through the body, to the top and leave through the ground.  Green is visualized coming in horizontally from the world to fill your body and then leaves out the back, while blue and violet come in from the head, to the toes and back out to the sky.
Here are a couple favourites from the Colour Therapy Month website:
Eat a salad that contains all 7 colors of the rainbow.
Take a color therapy bath.
Mix and drink your favorite colorful cocktail or fruit smoothie.
Create a flower display of all the 7 rainbow colors.
Looking for more tips to build your resiliency? Look for my book on Amazon called Stress Out. 52 Weeks To Letting More Life In
#mentalhealth #hr