Hope, Health, and Happiness. Would you like to live your life with less stress and more happiness? Discover how to take small steps towards a healthier, happier, more resilient you. Stress is a powerful force in life. It can bring about illness, destroy relationships and cause chaos. There is not a one-size-fits-all coping strategy for dealing with stress. Our goal is to put a plan together that helps us to deal with the sources of stress, take care of ourselves during those stressful times, and allows us to reach out to those around us for support. The Work Smart Live Smart flash briefing focuses on helping you to Harness Your Energy, Build Your Resiliency and Protect Your Mental Health!
Episodes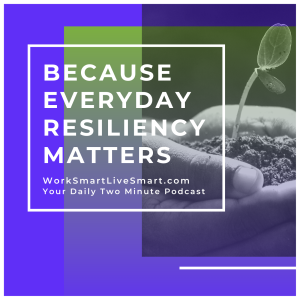 Wednesday Mar 22, 2023
Wednesday Mar 22, 2023
It can give us life and it can kill us.
Give us pleasure and cause fear.
It can be found everywhere and in 20 years half of us may not have enough of it.
It's more valuable than gold.
People are dying to have it.
What is it?
Water
It makes up to 78% of our body. To function properly, the body requires around two litres of water per day to avoid dehydration. It is the most important nutrient to our body. It is rather difficult to drink too much water, but it is dangerous to drink too little. Scientists have estimated that by 2030, in some regions of the world, water demand will exceed supply by 50%.
We take water for granted. Everyone pollutes it without thinking of the consequences and many of us waste it without thinking of how valuable it is. Humans can live without food for several weeks, but we would be in dire straits without water, even for only a couple a days.
Take One Action Today To Build Your #Resiliency!     
Tips For Building Resiliency and Celebrating World Water Day:
Plastic water bottles are convenient but a huge waste of resources and pollute our planet.  Look for alternatives.  Use the water fountain.  Take water in a reusable container.
Turn the water off when brushing your teeth.
Make sure your taps aren't leaking.
Don't pollute what you have. Look for biodegradable detergents and cleaners to run in your shower, dishwasher and washing machine.
Want to check out more health and wellness related celebrations, visit my wellness calendars under the resources and courses tab at worksmartlivesmart.com
#mentalhealth #hr