Hope, Health, and Happiness. Would you like to live your life with less stress and more happiness? Discover how to take small steps towards a healthier, happier, more resilient you. Stress is a powerful force in life. It can bring about illness, destroy relationships and cause chaos. There is not a one-size-fits-all coping strategy for dealing with stress. Our goal is to put a plan together that helps us to deal with the sources of stress, take care of ourselves during those stressful times, and allows us to reach out to those around us for support. The Work Smart Live Smart flash briefing focuses on helping you to Harness Your Energy, Build Your Resiliency and Protect Your Mental Health!
Episodes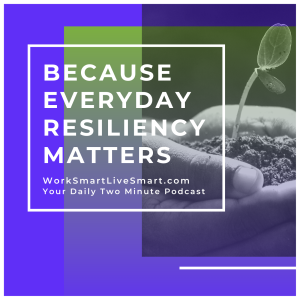 Monday Mar 20, 2023
Monday Mar 20, 2023
I am so done with winter. It is wearing on my nerves and making me seriously want to move to another country – preferably with snow only in the remotest of locations…just in case I do want to see it again. But that is not likely.
Today is Snowman Burning Day. It is a day to celebrate the changing of season and where we hopefully can soon leave winter behind us.
I am not sure that burning a snowman will bring me some spring juju, but at this point I am willing to try.
Take One Action Today To Build Your #Resiliency!     
Tips For Building Resiliency and Celebrating Snowman Burning Day:
If you can't burn a snowman, try encouraging that spring feeling by bringing home some blooms. Even if it is not spring outside yet, some bright flowers can make the day shine a little brighter
Make sure you have space to welcome spring into your home. Clear clutter from your display areas, closets, drawers and storage spaces. Donate, recycle or sell unused and unwanted clothing and household items.
Host a Spring Party and break out the BBQ. Getting together with friends or family can lift some of the winter gloom.
Finally, my favourite choice. Go out for ice cream. Nothing says good-bye to winter more than enjoying an ice cream cone.
Looking for more tips to build your resiliency? Look for my book on Amazon called Stress Out. 52 Weeks To Letting More Life In
#mentalhealth #hr