Hope, Health, and Happiness. Would you like to live your life with less stress and more happiness? Discover how to take small steps towards a healthier, happier, more resilient you. Stress is a powerful force in life. It can bring about illness, destroy relationships and cause chaos. There is not a one-size-fits-all coping strategy for dealing with stress. Our goal is to put a plan together that helps us to deal with the sources of stress, take care of ourselves during those stressful times, and allows us to reach out to those around us for support. The Work Smart Live Smart flash briefing focuses on helping you to Harness Your Energy, Build Your Resiliency and Protect Your Mental Health!
Episodes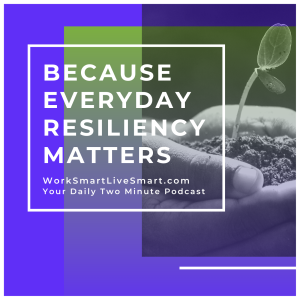 Tuesday Mar 14, 2023
Tuesday Mar 14, 2023
Whether out in the field or occupying the leader's chair, everyone has a stake in reporting incidents of suspected or actual wrongdoing. However, being a whistle-blower feels like a violation of that playground rule not to be a tattletale.
Creating a culture that encourages an individual to raise the red flag when something unethical or illegal is taking place is critical.
So how do you get past the feeling of not wanting to cause trouble for someone else?
It's by understanding that the consequences of keeping silent can be significant and harmful.
Take One Action Today To Build Your #Resiliency!     
Tips For Building Resiliency and Celebrating National Ethics Awareness Month:
Create a culture within your organization that encourages employees to report wrongdoing. Work with your teams to understand that the cost of silence is high. This silence may impact the safety of colleagues or damage the reputation and bottom-line of the organization.
According to an article in the Harvard Business Review, a survey of 195 global leaders located in 15 different countries reported that high ethical and moral standards were the most important leadership trait in the workplace.
Those whose word is their honor and who can be absolutely trusted to be fair, honest, and forthright, are more likely to command the respect of those around them.
High ethical and moral standards create a safe and trusting environment in the workplace where employees can thrive. When employees feel that they can depend on and trust their leader, they feel safe and will go the extra mile for the organization.
While leaders have an obligation to set the ethical tone of the organization, it is everyone's ethical behavior that matters.
Looking for resources to build your healthy workplace? Check out my top 10 tips under Resources and Courses at worksmartlivesmart.com
#mentalhealth #hr