Hope, Health, and Happiness. Would you like to live your life with less stress and more happiness? Discover how to take small steps towards a healthier, happier, more resilient you. Stress is a powerful force in life. It can bring about illness, destroy relationships and cause chaos. There is not a one-size-fits-all coping strategy for dealing with stress. Our goal is to put a plan together that helps us to deal with the sources of stress, take care of ourselves during those stressful times, and allows us to reach out to those around us for support. The Work Smart Live Smart flash briefing focuses on helping you to Harness Your Energy, Build Your Resiliency and Protect Your Mental Health!
Episodes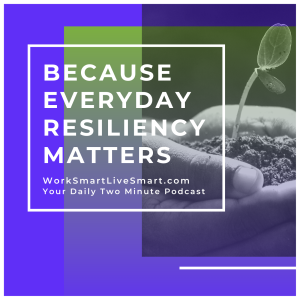 Tuesday Mar 21, 2023
Tuesday Mar 21, 2023
Roses are red, Violets are Blue
Stinky feet? Try some perfume.
Fragrance Day is a celebration for the olfactory nerves in your nose. There is nothing like the scent of a good wine, a beautiful flower, the coming of spring, fresh baked cookies or a touch of perfume.
The sense of smell, called olfaction, involves the detection and perception of chemicals floating in the air. The olfactory tract transmits these signals to the brain, particularly the limbic system. The limbic system is involved with emotional behavior and memory which is why when you smell something, it often brings back memories associated with the object.
The connection between smell and memory happens almost immediately for us.  Baby's recognize the smell of their mother. No two people have the exact same odor-identity or "smell fingerprint" which is determined by many factors including: our genes, skin type, diet, medicine, mood state and even the weather.
Take One Action Today To Build Your #Resiliency!     
Here are today's Tips To Celebrating Fragrance Day:
Use different smells to purposefully relax you, energize you or excite you.  Citrus provides energy and lavender can help you to relax.  You can buy room fresheners, candles and even incense to add that dash of fragrance.
Take a fragrance walk. Now is an excellent time to get out and notice the smells of spring such as the melting snow or the first flowers.
So Happy smelling!
If you like today's wellness tips, let me know.
Looking for more tips to build your resiliency? Look for my book on Amazon called Stress Out. 52 Weeks To Letting More Life In
#mentalhealth #hr