Hope, Health, and Happiness. Would you like to live your life with less stress and more happiness? Discover how to take small steps towards a healthier, happier, more resilient you. Stress is a powerful force in life. It can bring about illness, destroy relationships and cause chaos. There is not a one-size-fits-all coping strategy for dealing with stress. Our goal is to put a plan together that helps us to deal with the sources of stress, take care of ourselves during those stressful times, and allows us to reach out to those around us for support. The Work Smart Live Smart flash briefing focuses on helping you to Harness Your Energy, Build Your Resiliency and Protect Your Mental Health!
Episodes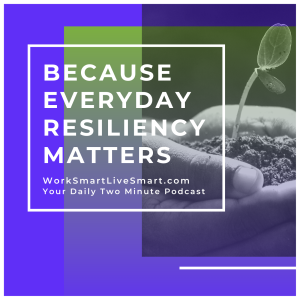 Saturday Mar 18, 2023
Saturday Mar 18, 2023
My parents weren't perfect.
As a new parent, I knew I was going to be a better parent than my own.  I was going to be kinder, hug more, talk more, connect more, love more.
And my children would appreciate me, know that I was always fair, never 'hate' me, and never doubt my love for them.
Reality can be painful.  The realization that there is no such thing as a perfect parent, that no one had perfect parents, that you are not going to be the perfect parent and that no matter what, your children are going to take you for granted, think that you are unfair, 'hate' you for the decisions that you've made and will probably doubt how much you love them at some point, is all part of our maturing process.
Parenting is not easy.  We wing it, just like our parents did. 
This realization can lead us to forgiveness.
Sometimes there is a little to get past, sometimes there is a lot to forgive.  Sometimes the hurt and damage run very deep.  Hanging on to this 'baggage' is damaging.  It can damage your current and future relationships. 
Forgiveness is not forgetting.  It is awareness and it is moving forward. 
The past can never be re-written.  But sometimes forgiveness allows the future to be much brighter.
Take One Action Today To Build Your #Resiliency!     
Tips For Building Resiliency and Celebrating Forgive Mom and Dad Day:
In my teens, I wanted to change my parents.  As I got older, I have grown to accept them for who they were and are today. 
They were not perfect, but they have some really good qualities.  Now, I see them through the eyes of my children.  They love their grandparents, the way I loved mine. When I look back, I see that they don't carry that same baggage when they see their grandparents as I do when I see them as my parents. They greet my parents with excitement and enthusiasm.  They laugh and joke around.   Now, I try too.
Forgiveness is essential to living a healthy life.
Discover how to take small steps towards a healthier, happier, less-stressed you by visiting my website at worksmartlivesmart.com.
#mentalhealth #hr