Hope, Health, and Happiness. Would you like to live your life with less stress and more happiness? Discover how to take small steps towards a healthier, happier, more resilient you. Stress is a powerful force in life. It can bring about illness, destroy relationships and cause chaos. There is not a one-size-fits-all coping strategy for dealing with stress. Our goal is to put a plan together that helps us to deal with the sources of stress, take care of ourselves during those stressful times, and allows us to reach out to those around us for support. The Work Smart Live Smart flash briefing focuses on helping you to Harness Your Energy, Build Your Resiliency and Protect Your Mental Health!
Episodes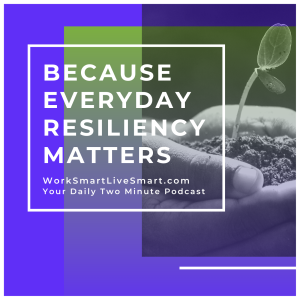 Thursday Mar 16, 2023
Thursday Mar 16, 2023
We are becoming more self-centered and Narcissistic. "Selfie" was Oxford dictionary's Word of the Year in 2013. Since then, it's become a serious preoccupation. The cultural phenomenon of the 'selfie' exposes a very basic human desire — to feel noticed, appreciated and recognized. Our addiction to selfies has turned deadly and selfie-related incidents now top shark attacks when it comes to unusual ways to die!
One study in the U.K. revealed that women between the ages of 16 and 25 spent an average of five hours a week taking selfies.
Research shows that selfies can make us feel lousy about ourselves to the point where we photoshop and filter our selfies in an effort to be picture perfect. How many pictures have you looked at and wonder why the person adjusted the picture so much that it no longer looks like the real thing?
However, it is hard not to love the ego boost from sharing a selfie because of the positive comments we usually get.
Take One Action Today To Build Your #Resiliency!     
Tips For Building Resiliency and Celebrating No Selfies Day:
To celebrate today is easy – all you have to do is NOT participate in taking selfies!
Be in the moment, rather than trying to capture and edit it.
Finally, be careful that you are not falsely praising and reinforcing selfies that are over-processed.
For more information on coping with mental health issues, sign up for one of my on-line courses at worksmartlivesmart.com under the resources and courses tab.
#mentalhealth #hr