Hope, Health, and Happiness. Would you like to live your life with less stress and more happiness? Discover how to take small steps towards a healthier, happier, more resilient you. Stress is a powerful force in life. It can bring about illness, destroy relationships and cause chaos. There is not a one-size-fits-all coping strategy for dealing with stress. Our goal is to put a plan together that helps us to deal with the sources of stress, take care of ourselves during those stressful times, and allows us to reach out to those around us for support. The Work Smart Live Smart flash briefing focuses on helping you to Harness Your Energy, Build Your Resiliency and Protect Your Mental Health!
Episodes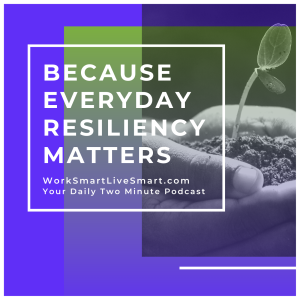 Monday Mar 13, 2023
Monday Mar 13, 2023
Millions are too sleepy for sex, according to a poll by the National Sleep Foundation.
Many of us are sleeping poorly which is causing us to be sleep deprived, and it's taking a serious toll on professional relationships, productivity, public safety and even the most intimate aspects of our lives.
Take One Action Today To Build Your #Resiliency!     
So Here are today's Tips For Building Resiliency and Celebrating Napping Day:
A short nap of 20 minutes can help to improve mood, alertness and performance. It can be extremely effective at eliminating fatigue-related accidents and injuries. A 90-minute nap can be extremely effective, if you can schedule it into your day.
Naps can be typed into three different categories:
Planned napping involves taking a nap before you actually get sleepy.
Emergency napping occurs when you are suddenly very tired and cannot continue with the activity you were originally engaged in.
Habitual napping is practised when a person takes a nap at the same time each day.
I love my naps and I need my naps. They help me through my afternoon slump and allow me to carry on with my projects in a more productive and creative way afterwards.
Discover how to take small steps towards a healthier, happier, less-stressed you by visiting my website at worksmartlivesmart.com
#mentalhealth #hr