Hope, Health, and Happiness. Would you like to live your life with less stress and more happiness? Discover how to take small steps towards a healthier, happier, more resilient you. Stress is a powerful force in life. It can bring about illness, destroy relationships and cause chaos. There is not a one-size-fits-all coping strategy for dealing with stress. Our goal is to put a plan together that helps us to deal with the sources of stress, take care of ourselves during those stressful times, and allows us to reach out to those around us for support. The Work Smart Live Smart flash briefing focuses on helping you to Harness Your Energy, Build Your Resiliency and Protect Your Mental Health!
Episodes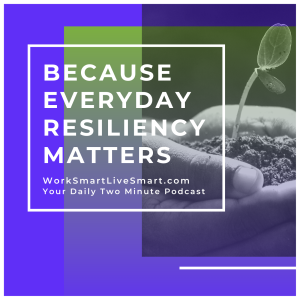 Sunday Mar 12, 2023
Sunday Mar 12, 2023
In most of Canada, Daylight Saving Time begins at 2:00 a.m. local time on the second Sunday in March. Today!
I have a hard time with these adjustments. I love having it brighter in the evenings, but that adjustment to darkness early in the morning again makes it less likely that I am springing out of bed…for a while any way.
Daylight saving time isn't all bad.
In fact, when we move an hour ahead, we enjoy more daytime hours, which hopefully we are using to get outside, connect and just become more active after the sluggishness of winter. There are definite other benefits to the clocks shifting, including decreased oil and energy usage. Daylight Saving Time seems to decrease the risk for accidents in the evening hours. However, a Swedish study found that heart attacks were significantly more common the first three weekdays after our spring transition.
Take One Action Today To Build Your #Resiliency!     
Tips For Building Resiliency and Celebrating the switch to Daylight Saving Time:
Though it's only one day, daylight saving time can throw off your entire schedule, and the sleep effects tend to linger for a few days.
Therefore it is important to take note of the impact that the clock shifting has on your sleep, mood and focus. Ensure that you are getting a good night's sleep before this occurs to minimize the impact of this shift.
More light can equal more time to do what you want or need to do, which equals a happier you. Make use of the extra daylight and enjoy the changing seasons.
If you like today's wellness tips, let me know. You can leave me a review on amazon or through your #alexa app.
Looking for more tips to build your resiliency? Look for my book on Amazon called Stress Out. 52 Weeks To Letting More Life In
#mentalhealth #hr