Hope, Health, and Happiness. Would you like to live your life with less stress and more happiness? Discover how to take small steps towards a healthier, happier, more resilient you. Stress is a powerful force in life. It can bring about illness, destroy relationships and cause chaos. There is not a one-size-fits-all coping strategy for dealing with stress. Our goal is to put a plan together that helps us to deal with the sources of stress, take care of ourselves during those stressful times, and allows us to reach out to those around us for support. The Work Smart Live Smart flash briefing focuses on helping you to Harness Your Energy, Build Your Resiliency and Protect Your Mental Health!
Episodes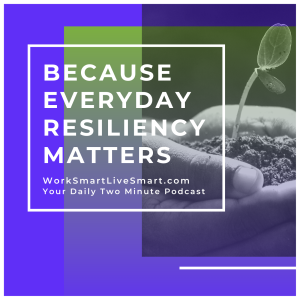 Saturday Mar 11, 2023
Saturday Mar 11, 2023
Do you drink more than four cups of coffee a day?
Do you often find yourself irritable, depressed or disoriented after drinking caffeinated beverages?
When you don't drink caffeine do you find yourself experiencing headaches, drowsiness, or insomnia?
National Caffeine Awareness Month draws attention to the risk associated with caffeine.
At 200 mg of caffeine, you can experience irritability, restlessness, tension, insomnia, excitement, and gastrointestinal disturbance.
If you consume more than 1 gram (1000 mg), you can receive irregular heartbeats, panic and anxiety disorders, muscle twitching, and incoherent speech.
And, believe it or not, when you ingest more than 5 grams, the results can be fatal.
Caffeine has a half-life of about six-hours. That means that if your 4 o'clock cup of coffee contains 200 mg of caffeine, by 10 o'clock that night, there will still be 100 mg of caffeine in your body, preventing you from falling into a deep and restful sleep.
Take One Action Today To Build Your #Resiliency!     
Tips For Building Resiliency and Celebrating Caffeine Awareness Month:
Look at what you consume – caffeine is often a hidden ingredient in some of our favourite foods.
Be aware of how much caffeine you are consuming in a day.
Look at why you consume certain caffeinated drinks. Is it the flavour, the social aspect, the energy boost, or is it out of thirst or boredom? The answer will help you to determine if there is a healthier way to fill that need.
Looking for more ways to build your resiliency, take my free on-line vulnerability test at worksmartlivesmart.com under the resources and courses tab.
#mentalhealth #hr