Hope, Health, and Happiness. Would you like to live your life with less stress and more happiness? Discover how to take small steps towards a healthier, happier, more resilient you. Stress is a powerful force in life. It can bring about illness, destroy relationships and cause chaos. There is not a one-size-fits-all coping strategy for dealing with stress. Our goal is to put a plan together that helps us to deal with the sources of stress, take care of ourselves during those stressful times, and allows us to reach out to those around us for support. The Work Smart Live Smart flash briefing focuses on helping you to Harness Your Energy, Build Your Resiliency and Protect Your Mental Health!
Episodes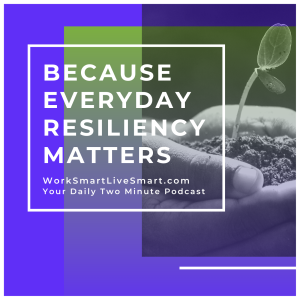 Friday Mar 10, 2023
Friday Mar 10, 2023
Today is the International Day of Awesomeness! This day gives us the opportunity to celebrate every person, place, thing, or idea in the world that is awesome. I encourage all of the participants in my workshops to look for the awesome. As the official tag line points out, "No one's perfect, but everyone can be awesome."
Take One Action Today To Build Your #Resiliency! 
So Here are today's Tips For Building Resiliency and Celebrating International Day Of Awesomeness:
    
Today is the day to both perform and celebrate feats of awesomeness.
Celebrate by posting about someone who epitomizes the ideals of awesomeness. It may be a family member, friend, or colleague who receive this special recognition.
Be curious. Start a conversation with someone that you have seen everyday, but have not talked to. You may be surprised by their story or by the things that you have in common.  It will brighten their day — and yours.
Build an awesome workplace, one smile at a time.
Explore the "What If". What if we didn't do blank anymore? What if we changed blank? What if we started blank? See where the answers take you. This simple exploration could improve your relationships or your workplace.
Wishing you an awesome day!
#mentalhealth #hr