Hope, Health, and Happiness. Would you like to live your life with less stress and more happiness? Discover how to take small steps towards a healthier, happier, more resilient you. Stress is a powerful force in life. It can bring about illness, destroy relationships and cause chaos. There is not a one-size-fits-all coping strategy for dealing with stress. Our goal is to put a plan together that helps us to deal with the sources of stress, take care of ourselves during those stressful times, and allows us to reach out to those around us for support. The Work Smart Live Smart flash briefing focuses on helping you to Harness Your Energy, Build Your Resiliency and Protect Your Mental Health!
Episodes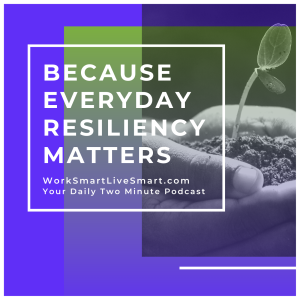 Thursday Mar 09, 2023
Thursday Mar 09, 2023
Help! It's Panic Day.
This awareness day is not about panic attacks or panic disorder which is serious and affects 2-3% of the population. Today is the day to examine how we may over-react to the stress in our everyday lives and to find strategies that will keep us focused and healthy.
You know the over-reactions that we are talking about.  We even have sayings that go with them… such as don't cry over spilled milk… Or don't make mountains out of mole hills.
Anxiety and stress have their place in our life. They help us to avoid danger. They keep us thinking and being creative. And they keep us on our toes so that we don't become complacent.
The point at which worry becomes unhealthy is when it stops pushing us to act and move forward.  This panic can be paralyzing and prevent us from thinking clearly enough to find the best strategies to deal with the source of our anxiety.
Take One Action Today To Build Your #Resiliency!     
Tips For Building Resiliency and Celebrating Panic Awareness Day:
Listen to the way that you describe the situations that you find yourself in.  Do you use extreme-type words?  Do you awfulize everything?  Choose the words carefully. 
Evaluate how you are feeling in relation to the situation.  Are you feeling helpless or hopeless? 
Notice what happens to your body when you feel this way.  Where does it hit you the most? 
Try different relaxation techniques to combat those anxious feeling.
Evaluate the situation to see what options you have.  Keep yourself moving forward in the problem-solving mode and the anxiety will be kept in check.
What is your release?  Sometimes we need a quick strategy to release the anxiety so that we can start to problem solve.  This may include a good scream, a run, or a round or two on the punching bag.
For more information on coping with mental health issues, sign up for one of my on-line courses at worksmartlivesmart.com under the resources and courses tab.
#mentalhealth #hr