Hope, Health, and Happiness. Would you like to live your life with less stress and more happiness? Discover how to take small steps towards a healthier, happier, more resilient you. Stress is a powerful force in life. It can bring about illness, destroy relationships and cause chaos. There is not a one-size-fits-all coping strategy for dealing with stress. Our goal is to put a plan together that helps us to deal with the sources of stress, take care of ourselves during those stressful times, and allows us to reach out to those around us for support. The Work Smart Live Smart flash briefing focuses on helping you to Harness Your Energy, Build Your Resiliency and Protect Your Mental Health!
Episodes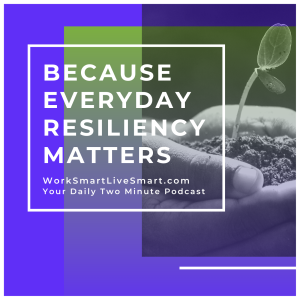 Tuesday Mar 07, 2023
Tuesday Mar 07, 2023
Running a small business can be very stressful. One of the keys to success, is to be able to reach your customers. But it can be difficult to break through the noise, so that your customers know that you even exist.
It can be just as difficult to be heard at work by your boss, or even within your family.
Our minds are being constantly bombarded by messaging from other brands and social media, from colleagues and from friends and family.
Take One Action Today To Build Your #Resiliency!     
So Here are today's Tips For Building Resiliency and Celebrating National Be Heard Day:
Get to the point…you have 8 seconds! One website suggests that we are exposed to around 4,000 to 10,000 messages per day and less than 100 of those messages will be remembered. Human attentions spans are at an all-time low dropping from 12 seconds to less than 8 seconds. The key to cutting through the noise is through short messages.
Use visuals. We process visuals faster than text and we remember visuals more than text. Create a picture in the mind of your listener if you can't use a visual.
Provide value first. People are most engrossed in their own self-interest, so play into that. Make it about them, their needs, goals, wants and desires. Relate it to their own history, situation, reputation and behavior.
As a small company, what do you do to make it easy to work with you? How do you assist your boss or colleagues before presenting issues or problems? Do they only hear negative comments or issues from you? In your family, do praise and recognize the positives or is all your communication negative?
Want to check out more health and wellness related celebrations, visit my wellness calendars under the resources and courses tab at worksmartlivesmart.com
#mentalhealth #hr